Ever since search engines existed and entrepreneurs realized the potential for an online business, Search Engine Optimization (SEO) has existed. It is the process of modifying a website to make it rank higher when a user searches for its keywords. SEO is not limited to one action but more so a whole host of strategies that are tailored to fit the needs of a particular site.
Smaller businesses have it harder in any industry. They put in a lot more effort to achieve business success while only getting marginally smaller returns. But there are helpful tools they can use to help guide their business in the right direction. One such tool is SEO. In fact, in today's increasingly digital world, it is a crucial factor that could mean the difference between success and failure.
Below are some major benefits SEO has to offer to smaller businesses.
1. SEO can help you find new customers online
In this increasingly digital age, it might seem too small and new business impossible to find new clients now that the internet is inundated with quite a few marketers and digital agency services. But the number of people doing more of their shopping online continues to rise. What this means to business owners is that there are still a lot of opportunities to grow their business and find a new audience.
SEO can be a helpful tool in going through the millions of online users to find the business's target audience. Through SEO, brands can identify who their target audience is and craft appropriate promotional campaigns to lure them into the site. They can recommend several strategies to attract the attention of these target audiences through personal branding, content creation, organic search, and many more.
But the core purpose of SEO is to make sure that the brand's website is streamlined and effective enough to rank higher on the search engine results page. For the most part, this is where many users find the products they are looking for.
2. SEO can increase traffic
In the past couple of years, SEO has made a huge impact especially in small to medium businesses. And it's easy to see why so many business and brand owners have invested in SEO – it delivers results. One such metrics that people rely on and that SEO can deliver is a boost in their site traffic. SEO achieves this in three fundamental ways.
Keywords
Using the right words to signal to search engines what the content of a site is is fundamental to any effective SEO strategy. These keywords are what make site pages relevant and valuable to users who are searching for those particular keywords. SEO uses different types of keywords such as:
l

ong-tail keywords – these are made up of multiple words that address a specific need by a user.

locatio

n-based keywords – perfect for local businesses and make use of location services such as Google Maps.
Content
The long-standing saying of "Content is king" remains true when it comes to SEO. It would be hard to get the attention of users to a site if it lacks content to give their products and services more valuable. Content is also a perfect way to convince users who are merely browsing to convert. Different forms of content include:
blog posts

video

infographics

eBooks

case studies

white papers
Off-page Signals
Websites are ranked based on the number of other sites that reference their content. This gives the site more credibility. The more backlinks the site receives the higher it is ranked on the search engine results page.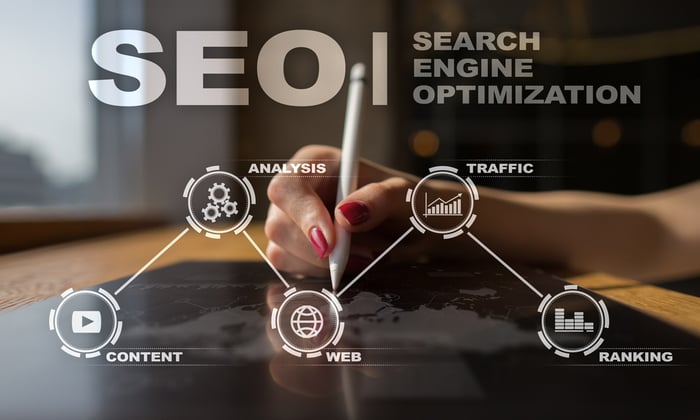 3. SEO improves conversion
An important metric all businesses look for is conversion rate. This simply means the percentage of visitors in a particular site that completed the desired goal, whether it is buying a product or signing up for a newsletter. A high conversion rate indicates that a marketing campaign or website design is successful. Many marketers strive to boost the conversion rate of their clients and SEO is one way to do that.
Through the use of conversion rate optimization, SEO is able to increase the percentage of visitors to a site and convert them to take a specific action or convert them into paying customers. This is done, for the most part, by finding out at which point that a lot of users abandon the conversion and thereby addressing it with a fix.
A key concept behind conversion rate optimization isn't so much getting new visitors to convert but maximizing the value of the existing traffic. To put it in another term, it's better to fix a leaky pipe to fill a bucket than to force more water into it.
Strategies that SEO could employ to boost conversion rate include:
making the site more mobile friend

increasing the site speed

fixing navigation issues on the site

providing custom error page
4. SEO improves brand awareness
Brand awareness metric only became relevant in recent years, especially with more people depending on the internet for information. SEO, for the most part, has always played an important role when it comes to helping a company improve its brand awareness. But recently, that role is shifting. Back in the day when all that digital marketers had to do is put the name of the brand on landing pages no longer flies now that users are more discerning. Now, business owners need a more savvy and well-planned strategy to increase brand awareness of the company.
As technology advances, the algorithms in search engines are going to get smarter, more complex, and focus more on users. Brands will have to compete in an increasingly noisy space. SEO could be a way to organically lift a brand up and over all others. Strategies that SEO could use to boost brand awareness include:
Building links –

The more domains link back to a page is directly related to a higher SERP for that site.

Optimizing keywords to increase organic search –

Ranking high proves to other users that the website has credibility.

Integrating social media –

Social media is a perfect match for SEO and it is where a lot of potential target audiences can be found.

Publishing high-quality and valuable content –

Content is kind and valuable and relevant content is one thing that pulls customers to a brand's website.
5. SEO can help overtake competitors
A lot of businesses will have that competitor they're eyeing to overtake. Typically, both businesses overlap in the products and services they offer, as well as in their target audience. A good way to put your brand ahead is with the help of SEO.
A boost in search engine ranking is usually enough to boost the metrics of one brand over another. When searching for a particular product, services, or information, users are more likely to click the number one link that shows up on search engines. This shows that investing in SEO to help a site improve its rank is one way to get ahead of the competition.
Also, even if your closest competition isn't ranking as high but is still considered to be a major player within your industry, you can easily take them on through the use of an effective SEO strategy.
6. SEO is a cost-effective marketing tool
The big players in the industry seemingly have an unlimited marketing budget to outcompete all its smaller competitors. With this in mind, a lot of businesses turn to SEO as a cost-effective marketing strategy that can offer great benefits to a business even against the bigger rivals.
A well-thought-out SEO strategy can go against big businesses with bigger budgets that they spend on pay-per-click ads and other forms of advertising campaigns. SEO also offers a higher ROI since there are almost limitless returns if you get the right traffic to your website. And once the site is ranked high, there's no need to actively spend more money on paid campaigns. All that's needed is to maintain the SEO – no need to continue to pay for ad space.
7. SEO improves usability
Businesses need to keep usability in mind if they want to succeed within their space. This simply means that user experience plays an important role in the business to reach its goals.
One of SEO's goals is to improve the experience of the customer since search engines like Google put a lot of weight on user experience, which is essentially the idea behind ranking sites. Metrics such as bounce rate and customer feedback are things that search engines look for in a site.
Improving SEO also means improving the usability of the site. It means making the web design pleasing to look at, making the pages navigable, and making content more organized. It's important to remember that when users enjoy visiting the site and are not left frustrated, they are more likely to linger and explore it which only helps with the ranking.
FINAL THOUGHTS:
SEO should be top of mind for business owners and marketers in the digital agency space. It offers a lot of benefits and could be an important factor in making sure a brand or business achieves all its goals.
Contributor: Lily Brooks
About Us:
Almost Magical Marketing is a full suite digital marketing agency specializing in Chatbots, Facebook Advertising, Social Media Management, Sales Consulting, Franchise Marketing, and Branding. Our team of almost magical llamas brings a wealth of experience from multiple industries. 🦙✨
Want to learn specific ways chatbots can work for your business?
Get in contact by emailing us at
hello@almostmagicalmarketing.com